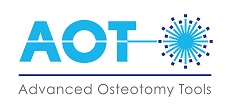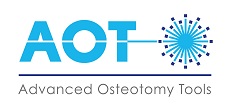 • CE marking is expected for 2020
• Submission at the FDA is expected for early 2021

Basel, Switzerland, June 22, 2020
On June 19, 2020, the Swiss Medtech company Advanced Osteotomy Tools (AOT) successfully completed the last surgery required for the first-in-man clinical study of its proprietary CARLO® device. The aim of the study was to demonstrate the performance and safety of the system. CARLO® (Cold Ablation Robot-guided Laser Osteotome) is a surgical robotic platform, which is used to cut bones through cold laser ablation – i.e. without conventional surgical tools. CARLO® was used for the first time in July 2019 at the University Hospital in Basel, Switzerland. Since then, laser osteotomies have been used as part of a clinical study during the surgeries of 28 patients at the University Hospital Basel, the Medical University of Vienna (AKH Wien) and the University Hospital Hamburg-Eppendorf. With the successful completion of the clinical study, AOT aims to achieve a CE marking for its device before the end of the year. The submission of the relevant documentation to the US Food and Drug Administration (FDA) is expected for early 2021.